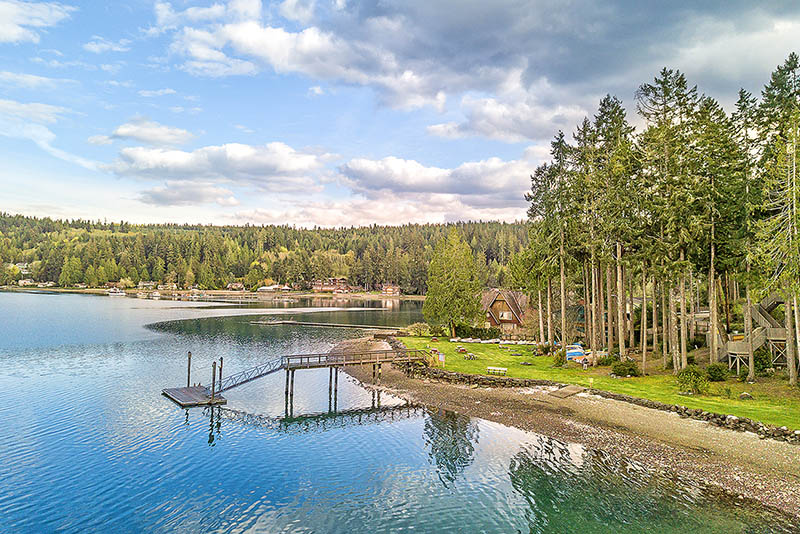 Welcome to Blue Heron!
Hood Canal has been the hideaway of Seattle and Tacoma city slickers since the turn the 1900's and the Blue Heron Resort has been a favorite spot for one and all.
Perhaps the private beach is one reason people are so attracted to this area. With 400 feet of waterfront smack dab on Hood Canal and stunning views, there is plenty to luxuriate in. Of course the beach and boat dock are popular with owners and guests.
Bring your boat or kayak, we have storage. Spend the day by the water at our picnic tables, grills, fire pits, and at night, roast marshmallows by a cozy beach fire.
The beach includes an area for clam digging as well as a section of the beach with plentiful delicious oysters for our consumption. Check current restrictions and licensing requirements.
Each home at Blue Heron Resort is fully outfitted with
- Quality furniture
- Full kitchens that includes pots, pans and dishes
- Stocked with fresh and fluffy towels and linens
- Friendly onsite services
- 24/7 phone service
- Easy access with free parking
The resort has a large outdoor heated pool with hot tub, lounge chairs, pool toys, patio tables, and sunbrellas. You could spend the day here or the entire week.
For action, check out the sport courts laid out for tennis, basketball and pickle ball. There is also a clubhouse with outdoor play areas. Newly opened in 2013, the club house has a patio deck, lots of seating, foosball, table tennis in constant use, a TV for watching games, and Wi-Fi of course.
You can get together with friends to use the kitchen, meeting room and library. There is a work out room, co-ed sauna and private showers, all accompanied with a dressing room
Find lots of parking for guests and owners. The grounds include laundry facilities, storage room, motor room, and a fire wood station.
Hood Canal
Go crabbing or fishing on your private boat or try your luck off our dock at high tide. Study the interesting animal life or watch the majestic blue herons out on the dock. Marvel at the eagles circling overhead or be entertained by the adorable seals.
Access to the beach is over our own private overpass, over the road, not far from our famed fountains from the historic Olympic Manor that graced this property a hundred years ago.
Our dock includes a gangway ramp that elevates for changing tide levels. The dock platform is perfect for tying up boats for day use. It is low enough for kayak and canoe use, as well as a perfect platform to jump into the canal for a cool and refreshing swim. Fishing from the platform is a favorite pastime for young families.
Situated on 10 acres of majestic Pacific Northwest groups, enjoy the rolling lawns where you can play frisbee or croquet. For the perfect ending to a perfect day, sit back and relax while facing west to watch the sun drop slowly behind the Olympic Mountains.
Full Kitchen
Wood Fireplace (Seasonal)
Starry Starry Nights
Propane Barbecue
Family Friendly
Resort Hot Tub
Pool Table
Cable TV Basic Channels
Patio
Resort Pool Outdoors
Table Tennis
High Speed Wireless Internet
Name: Blue Heron Resort
Status: Active
Rating:

Type: Resort
E6520 State Route 106, Union, WA, USA
Destination: Hood Canal
Location: Union
Lat/Lng: 47.351456, -123.073699
Altitude: 40
Setting: Beach Front Area
View: Peekaboo Water View
Condos: 26
Phone: 360-614-3191
Fax: 888-628-0839
Website: AtTheblue.com
Email: